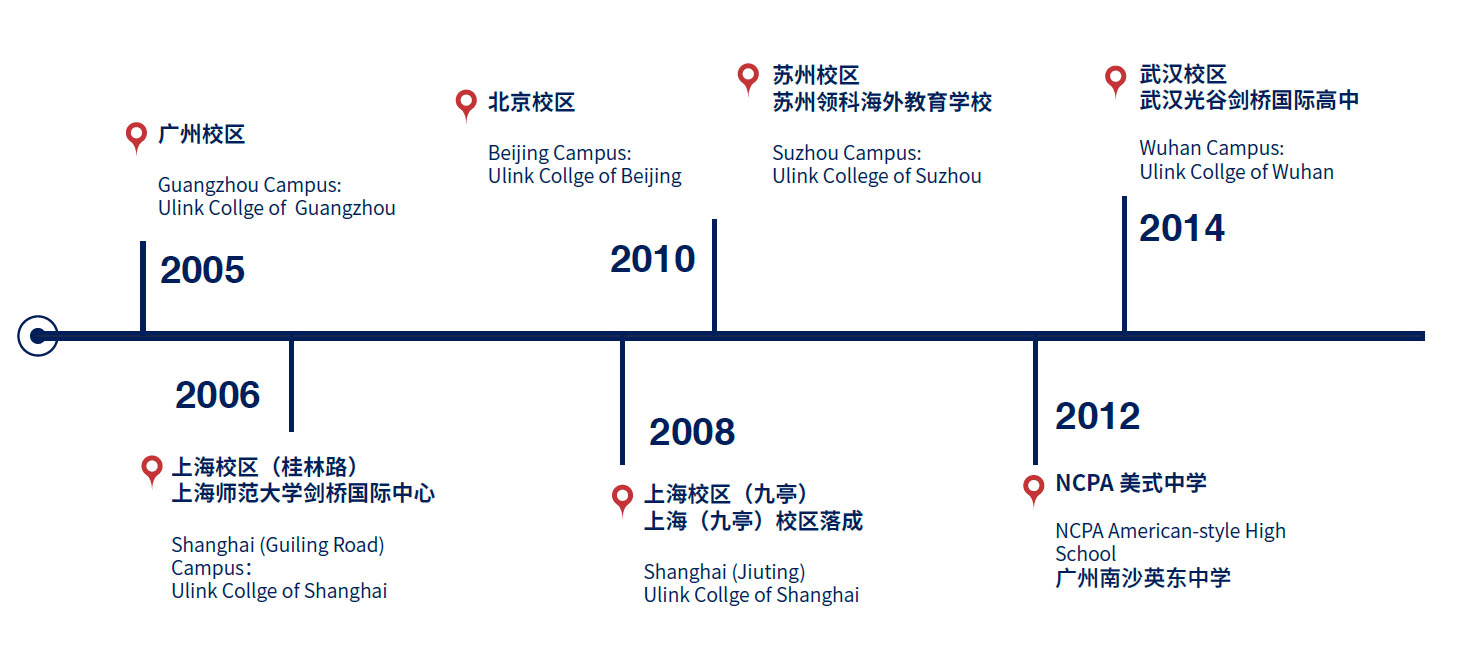 2004 Guangzhou Campus, Guangzhou Campus
2005 Leading Education Shanghai Campus
2010 Shanghai Leading Bilingual School
2010 Beijing Campus, Cambridge International Curriculum Center
Suzhou Campus Suzhou Park Leading Overseas Education School
2012 Guangzhou Campus Guangzhou Nansha NCPA American Middle School
2015 Wuhan Campus Wuhan Guanggu Cambridge International Center
2016 Shenzhen Campus Shenzhen Nanshan Chinese and English School Primary School International Department
2020 Shenzhen Campus Taizi Bay International School, Shekou, Shenzhen
After 15 years of development, Ulink College has formed a leading brand of international education in High School in China, with Shanghai and Guangzhou as the main campuses and with sister schools in six major cities; Beijing, Shenzhen, Suzhou and Wuhan. At present, Ulink College has more than 4,200 students nationwide, creating 100% of graduates admitted to foreign formal universities, 100% passed the visa requirements, and a total of more than 146 graduates to Oxford University, Cambridge University, ranking first in the country.

The Cambridge University International Examinations Board awarded Ulink College the Outstanding Contribution Award in 2013, the only school in China to date.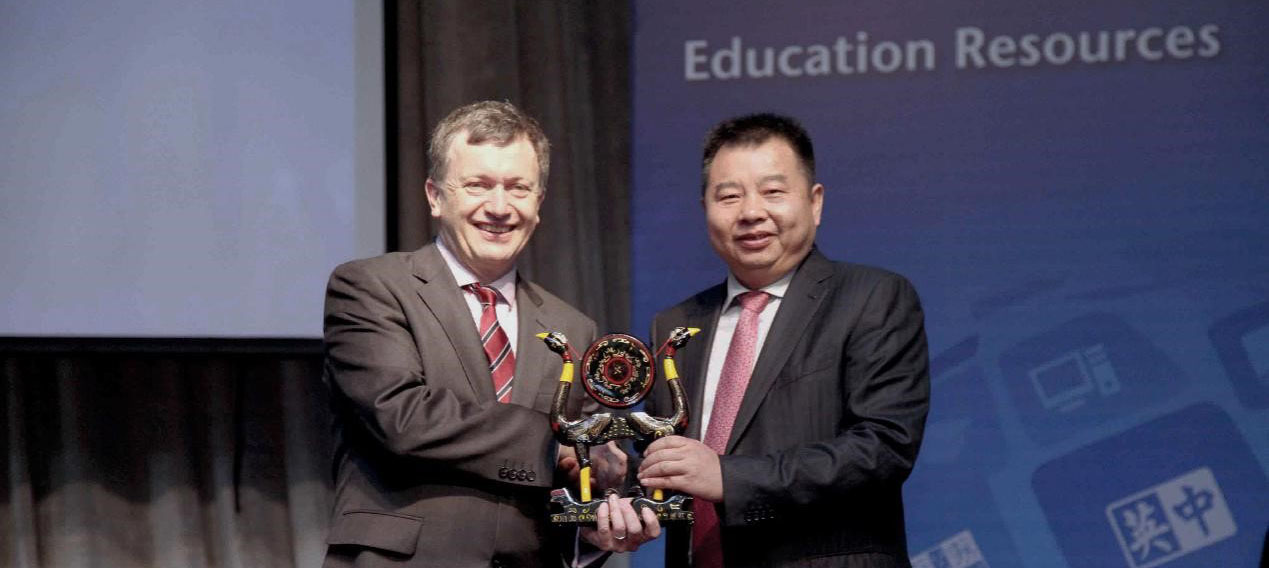 The first in the country to introduce mainstream international general curriculum
In 2003, in cooperation with CIE, the International Examinations Board of Cambridge University, the A-Level (Certificate of General Education) and IGCSE (Certificate of General Secondary Education) curriculum were introduced in China. For Chinese students to successfully enter the world's leading universities to provide a variety of high-quality international education.
Collaboration with the world's top educational institutions
The ULINK Group has extensive cooperation and exchanges with leading educational institutions around the world, including the International Examinations Board (CIE) at the University of Cambridge, the Isis Educational Institutions in the United States, and more. Based on the international advanced educational management concept and experience, we provide better conditions in the introduction of courses, teacher recruitment and training, student exchanges and so on.
Cambridge Benchmark School of Honor
Ulink College is the only school in china to receive the Cambridge University Outstanding Contribution Award, since its inception in 2004, it has opened campuses in Guangzhou, Shanghai, Beijing, Suzhou, and in 2015 the Wuhan campus, in Central China. Also in 2015, Ulink College was selected as the president of the Cambridge Chinese Teaching Union's Southern Division.
Global Recruitment Teacher Assurance
As a member of the Global Association of Recruiters, Ulink College regularly participates in global foreign teacher recruitment each year, supported by national groups, resulting in long-term stable and high-quality teacher team resource. All teachers are accredited by the Cambridge University International Examinations Board.
Teaching the rich UK curriculum
The immersion mode of all-English teaching allows students to better integrate into English learning. The school offers 17 courses covering language, mathematics, science, humanities, arts and applied sciences, ranging from Cambridge International High School to the forefront of the country. The richness of the course allows students to focus on their own strengths and interests, but also to avoid shortcomings.
System Excellence Selection Diversity
Ulink College's advanced curriculum system and hierarchical scoring system offer a diverse portfolio of disciplines to make personalized learning a reality for students. Students can focus on a particular area of expertise, or combine different areas of study.
Mentor system & Parent Tutorials
Due to our highest teacher-student ratio compared to similar schools in China, teaching according to merit, respect for personality, layered teaching can all be integrated in students day-to-day learning. The mentor system promotes the idea of student-centered learning as well as respecting learners' ideas and well-being. At the same time, our school carries out a variety of parent tutorials to promote lifelong learning among, teachers, students, and parents.
Small class sizes & layered teaching
Each class of no more than 25 learners, which provides each student with the opportunity to get the attention they need from their teacher. The school implements two main principles of teaching; skills-based approach and layered curriculum. Collectively, these approaches are effective student-centered teaching methods that embrace differentiated instruction, and encourage complex thinking, but also holds students highly accountable for their learning.
Boarding school activities
Ulink College extends the boarding system of international high-end private schools to organize students' optional and colorful extracurricular activities after the afternoon academic courses, and to exercise students' abilities in many ways. The school arranges full-time 24-hour living teachers to shape students' good character and habits in a residential environment.
Advocating a global perspective
The school regularly holds a variety of humanities, academic, lectures, and the promotion of guidance teachers from the to establish an individualized study file for each student. The student affairs office assists with all sorts of guidance; from the selection of courses to the application process, to help students successfully enter overseas famous schools, and aid them with acquiring knowledge, as well as establishing a global perspective of the world around them.
Ulink College has been running schools north of Guangsu for 15 years, accumulating rich resources of alumni of international elite schools. Each year, graduates return home to share the life learning experience of famous schools with students, provide all-round guidance on and off line, including curriculum selection, examination declaration, help students to establish a global alumni network, as early as possible to establish career planning and promotion goals.
Scroll Up